The national project in Jammu and Kashmir, also known as Udhampur-Srinagar-Baramulla Rail Link (USBRL) Project, aims to connect the Kashmir valley with the rest of the country through a rail network. Despite many hurdles, the tunneling work is picking up speed in the Kashmir rail link project and is expected to be completed by 2024.
The Udhampur-Srinagar-Baramulla Railway Link (USBRL) is an all-weather, cost-effective line that will be a boon to the economy of the Union Territory. By this month, the railway link has generated five crore man-days of employment. The first three phases of the project are complete. Trains are operational between Baramulla-Banihal in Kashmir Valley and Jammu-Udhampur-Katra in the Jammu Region. The work on the topographically challenging 111-km section between Katra and Banihal is ongoing. Some of the iconic structures in the project are Chehnab Bridge, Anji Bridge, T49 Tunnel ( India's longest tunnel ), Pir Panchal Tunnel (the Second longest tunnel ), and T-13 (the Third longest tunnel ).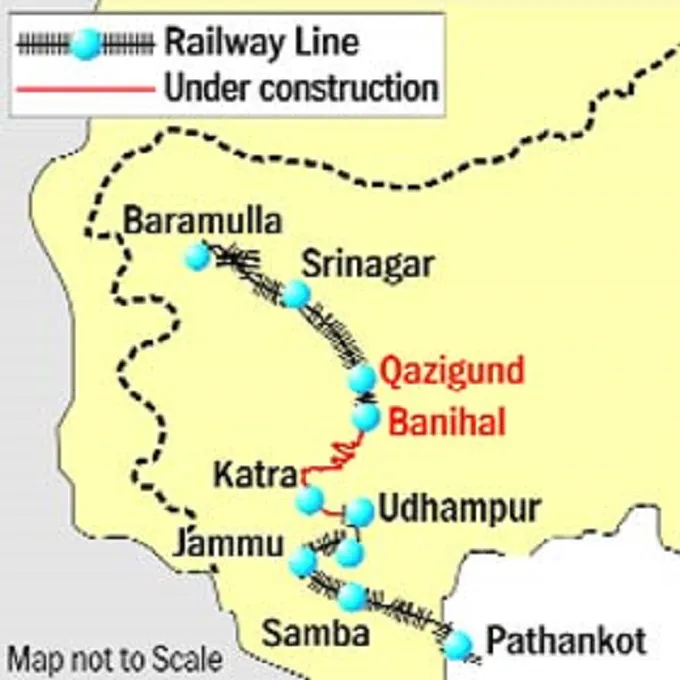 The Railways have granted an opportunity to districts such as Reasi and Ramban to find suitable employment and more work. Medical facilities, education, and business activities are now more accessible to the population. Today the work on more than 75 % of the total 37 bridges and 97.6 % of tunnels on the Katra-Banihal section is complete. So far, the construction of this section alone stands at Rs 30,672.34 crore.
The Railways have built more than 205-km long approach roads which include a tunnel and 320 bridges. 73 villages of the region which were earlier only accessible by foot or boats are now a part of our civilization through this railway connection. 65 % of the people employed in railway construction are locals. The world's most advanced and modern technologies are being used for the planning and construction of this project. In many instances, new technologies were developed along the way and existing methods were iterated by experts from India and abroad for the execution of the project.
This project is the highest altitude railway network in India – defying gravity on the impossible terrain of the Pir Panjal Mountain range. Indian Railways' 'Future Ready' railway system will surely go down as the new chapter of J&K's glory, development, and prosperity.